Hi,
Not sure if this is the correct place to post it, but because I develop exclusively to zx spectrum, I might as well post it here.
I've been developing for the last couple of weeks a scene editor (tile editor + scene tile placement+ export to c sp1 compatible) to aid me in my projects. Reason for this is that I felt the need to have a visual tool that allowed me to create a tile and place it in a scene with the attributes I want, and export it to a specific format that I could copy paste to a c project.
Hence the birth of my ZX Scene Editor. It allows me to create tiles (by hand or by copy-paste an image, width and height multiple of 8), position the tiles in a scene with ink, paper, bright attributes, and generate some code for tiles (the asm files, masked or not and the variable declarations) and also to generate code for the scene in a format I have specified.
Forward, I have a few more plans for this, including assigning properties to tile (when on screen, so same tile may have different properties and behaviors in game, allowing to define the scene format to be exported and a sprite editor.
My question here (besides showing off
) is to have some input of features that you'd like to see in a project of this type, and if this is interesting for someone. I've made this for myself, but if there's enough interest in this I may consider it's release (windows only sorry).
Bellow some images (click on the thumbnail for a somewhat resized low quality image - apologies for that)
The editor plus preview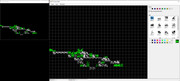 Tile editor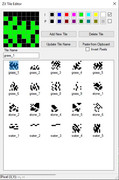 Exporting tiles

Exporting the scene

Thank you,
Antonio