Since everyone here is doing engines and editors, I thought I could share how I think I would make a small game in 2021.
Here are the files I'm including in this post:
https://www.sendspace.com/file/tnvjg8
Note: click the blue download button and sorry for the ads.
1) Draw some tiles and sprites.
Use your favourite image drawing program for that.
I could make a simple sprite/tiles editor but I am using Gimp for many years now.
You can find an image of a tileset in the zip file. Most of the demo tiles there are tiles I used before in other (released) games.
2) Use a map editor.
I used Mappy and Tiled before, and I'm not happy with both, so I made my own. See the file mentioned at the beginning of the post.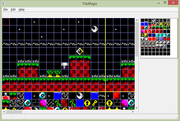 This is just a really small windows program. If you use linux, maybe wine will work on it.
This is just yet another (minimal) map editor I've made using code from other map editors I've built in the past.
Took me a week to write it, and it still doesn't do much.
All you have to do here is draw your game map, including everything.
You can draw on the left grid using the left mouse button. You select the tile to draw by using the mouse on the right, smaller grid, or using the right mouse button on the drawing grid.
The editor (and the current tileset) consider the first 48 tiles (1 tile = 16x16 pixels) as visible tiles, and everything above those are markers.
Markers are just basically not visible and is depending on your code what they do. You might not even need them at all.
The point here is that I would be drawing the map of my game here. Note that at this point, I have still not written or used any code.
The editor exports the map of the rooms as DEFBs so that I can include it directly inside my game. It also exports the first 48 tiles as tile data DEFBs to be included in the C code, too.
3) Write the code.
Now I start writing the code that is needed to finish the game, and not more.
Then I compile it, and I've included an example tap file in the zip file.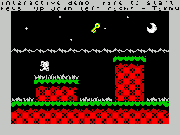 (Obviously this is just a demo so I've left out most of the functionalities. I wrote this stub code by starting with some really old game and then removed a lot of functionality, so the code took me only a few hours to "write".)
I will talk about the stub code in a separate post later.
4) Repeat until game finished.
Play, test, add/change stuff that you don't like, and improve. Until the game is finished.
Try not to add any new functionalities that is not on your map!